Stranger Things, Tarantino Parties and more – everyone knows The Night Owl knows how to do Halloween right! This year is no different! We're celebrating with four exciting events spanning over the week of Halloween with everything from our Wolf of Trinity St Scorsese night to our inclusive Come As You Are night!
Wednesday 26th October
Back of the Bar returns for a spooky special this Halloween week with special guest headliners Junodef. Hailing from London the sad-girl trio offer soaring melodies and haunting harmonies! Support comes from local rock trio The Masses, inspired by the likes of Kings of Leon, and Ace Ambrose whose sound is plucked straight from a bygone era of cool rock'n'roll with a touch of 80s nostalgia.
Free entry, 8pm!
Friday 28th October
Get ready to get trashy as we present… KILLER KLUB FROM OUTER SPACE: A B-MOVIES HALLOWEEN PARTY!
Featuring live music from THE GRUFFS who are celebrating their album launch on 'Western Star' records. They play live psychobilly, neo-rockabilly, ska, gothic horror and alien visitations. PLUS DJ sets from BEN DRUMMOND & ED EDWARDS who will be playing B-Movie Screams, Crypt-Kickers, No-No, Terrifying Trash, Haunted Garage Rock & other shockers!
We also have Gruesome Go-Go Dancers, THE GO-GETS, who will be showing off their moves throughout the party!
Themed visuals, cocktails and more will be available plus PRIZES FOR THE BEST B MOVIE STYLE HALLOWEEN COSTUMES!!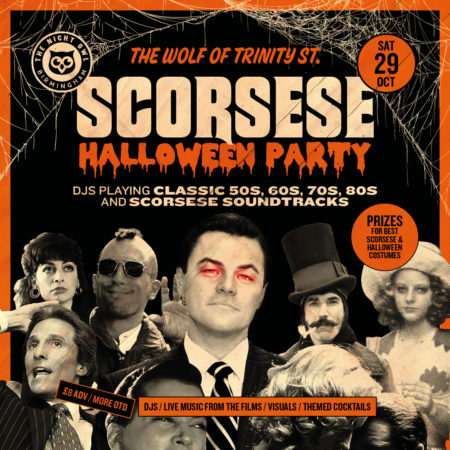 Saturday 29th October
"As far back as I can remember, I always wanted to be a gangster…."
29th October we are no longer the Owl we are… THE WOLF OF TRINITY STREET for a very special SCORSESE HALLOWEEN PARTY!
A whole night inspired by the films of Martin Scorsese and their soundtracks! So think… Wolf of Wall Street, GoodFellas, Taxi Driver, Gangs of New York, Cape Fear…(& you know, hit google, there's a lot!)
With DJs Mazzy Two Times, Wise Guys (Joel n Buck), Sonny & Scare plus live vocal performances from Frankenstein Sinatra (Metz Jnr) and Judy 'D' Vito
Our singers & DJs will set the mood with songs from the films and a delicious mix of cool classics from the 50s, 60s, 70s & 80s. Starting off smooth then bringing the party tunes out as the night progresses!
There will also be Scorsese visuals, themed cocktails and prizes for best Scorsese, Gangster & Halloween costumes
8PM TILL LATE LATE LATE
Tickets will fly so don't muck about!
Monday 31st October
Head down for our first ever inclusive singles night hosted by QAC Community Services, and to make it extra fun they've decided to combine it with a Halloween party! Relaxed and welcoming for all, inclusive of neurodiversity, support needs and disability, the Come As You Are team bring you a night of (optional) introductions, DJ sets and scary good fun
Fancy dress is VERY welcome.
It's £5 in on the door and for over 18s. PAs of course go free and the venue is wheelchair accessible with easy access to plenty of parking. Meet you on the dance floor!